Chincoteague Island, Virginia and the nearby island of Assateague are truly the places to enjoy the outdoors. You can have it all here in this part of Virginia. Beaches, swimming, surfing, kayaking, birding, and much more await while you enjoy the cool breezes of this island lifestyle at work and during your time off.
Thank you for your interest in working at Assateague Explorer cruises and kayak tours here in Virginia. We are located in Chincoteague Island, Virginia on the Eastern Shore of Virginia. We are looking for energetic individuals to work as a boat captain or a crew member on our boat tours or a kayak guide with us.
We are proud of the quality of services we provide and our commitment to excellence. Assateague Explorer has been in business since 2001, offering outstanding journeys to people on their family vacation from all over the world who wish to see what Assateague and Chincoteague are all about.
We provide an atmosphere where people can feel safe, comfortable and are able to relax so they can enjoy their vacation. Many of our guests have been coming back year after year due to the wonderful experience they have had along Assateague and Chincoteague with us.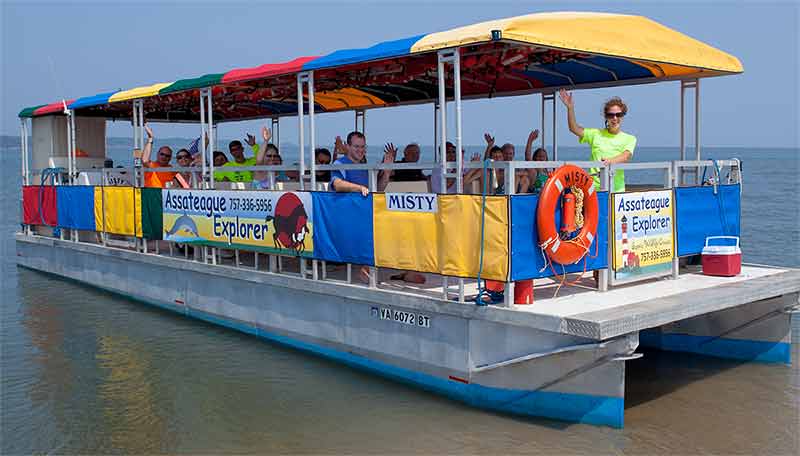 VIRGINIA SUMMER JOBS:
TOUR GUIDE
CREW MEMBER
KAYAK GUIDE
BOAT CAPTAIN
CUSTOMER SERVICE
This is a dream job with a great outdoor lifestyle. We require skilled staff dedicated to guest service, safety and environmental protection. Our staff must have a professional attitude and be trustworthy. You should be willing to learn and accept new ideas. Employees must be able to work long hours if needed during rush periods of the Summer and not be subject to burnout or moody behavior. You must work well under pressure, conform to company policies and be a team player. Workers must have a desire to help others. You should exhibit good interpretation skills in order to help visitors understand the history and nature of the islands. You should be able to adapt and improvise. Always follow safety procedures, be clean, responsible and apply common sense in a professional manner while entertaining guests or looking out for their safety. If you are interested in becoming part of our team and willing to work in a responsible manner, please complete the form above, submitting your resume & photo or as much information as you desire.
Chincoteague Island, Virginia has places to stay and we can assist you in finding a place here or on the mainland nearby. Find out why Chincoteague and Assateague have long enjoyed a reputation as a recreational playground. Most visitors to Chincoteague and Assateague only get to spend a short time enjoying this area. As an employee, you get a chance to truly experience one of Virginia's best vacation destinations. Eligible employees for seasonal employment must be responsible for their own transportation, place to stay on or near Chincoteague, be willing to work the Summer season here without taking any extended vacations and should be on time for work each day. Employees should be in good physical condition and alert to customers' needs.

Apply Now
Complete the below form to apply for a position with Assateague Explorer.