CHINCOTEAGUE ISLAND, VIRGINIA Located by ASSATEAGUE ISLAND
Driving Directions to the Boat Tour and Kayak Tour
CHINCOTEAGUE ISLAND, VIRGINIA Located by ASSATEAGUE ISLAND
Driving Directions to the Boat Tour and Kayak Tour
The Assateague Explorer Pony Express Nature Cruise, Kayak Tour & Sunset Cruise are located in Chincoteague Island, Virginia, right beside the best part of Assateague Island.
Chincoteague is located next to the beautiful southern half of Assateague Island with the Assateague Lighthouse, National Wildlife Refuge, approx. 80 new pony foals born each summer, dolphins, migratory birds and the most scenic areas. 
Chincoteague is 1 hour south of Ocean City, Maryland, 2 hours north of Virginia Beach and about 3 hours from Washington D.C.
Chincoteague is only 20 minutes south of the MD/VA state line on the Eastern Shore of Virginia and it is only 10 minutes off of US Rt. 13. 
Chincoteague is a scenic town with lodging, restaurants, shops and various attractions nearby the 37 mile National Park beach at Assateague. We are near the hotels in Chincoteague, about 5-10 minutes by car. RESERVE YOUR SPOT NOW.
Closest Airport:
SBY (1 h), ORF (2 h), BWI (3 h), DCA (3.25 h), IAD (3.5 h)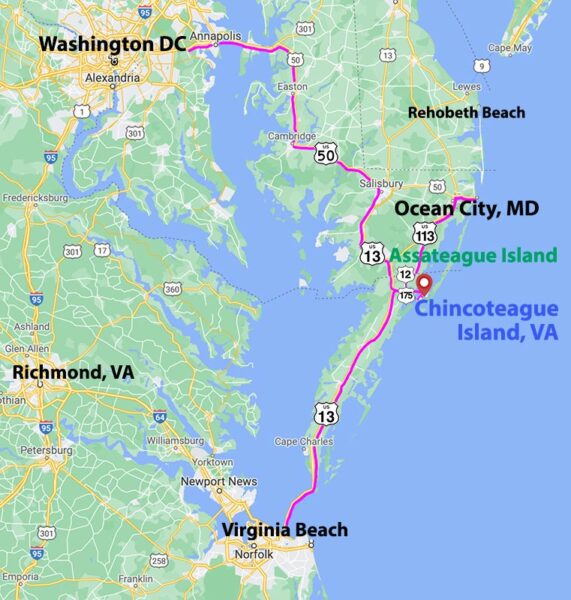 CRUISE departs from:
Chincoteague Island, Virginia
at the Town Boat Harbor
(shown on map)
Kayak tour meets at:
Atlantic Shores Inn,
Chincoteague Island, Virginia
(shown on map)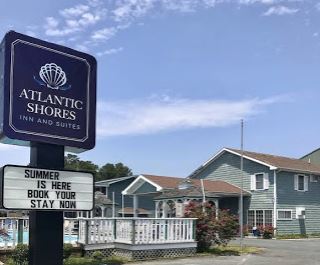 Directions from Ocean City, MD
Take Rt. 50 or Rt. 90 out of Ocean City
Then take Rt.113 S, Rt.12 S and Rt.175 E to Chincoteague Island
Directions from Assateague State Park, MD
Take Rt. 611, Rt. 376, Rt.113 S, Rt.12 S
Then Rt.175 E to Chincoteague Island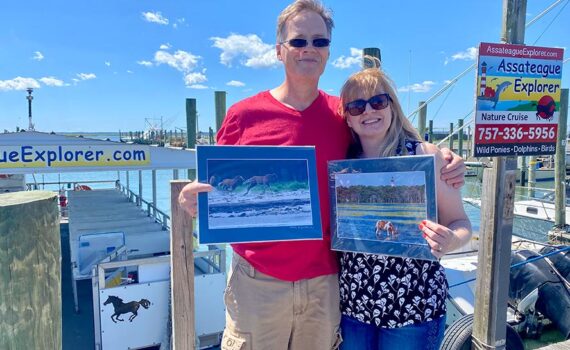 Directions from Ocean City, MD
Take Rt. 50 or Rt. 90 out of Ocean City
Then take Rt.113 S, Rt.12 S and Rt.175 E to Chincoteague Island
Directions from Assateague State Park, MD
Take Rt. 611, Rt. 376, Rt.113 S, Rt.12 S
Then Rt.175 E to Chincoteague Island